Trust Rapid Express Freight with Your LTL Freight Shipments
Our less than truckload (LTL Freight) shipment services is your best choice for shipment weighing between 150 pounds to large pallets up to 15,000 pound. The main advantage to using an LTL carrier is that a shipment may be transported for a fraction of the cost of hiring an entire truck and trailer for an exclusive shipment.
A number of accessory services are available from LTL carriers, which are not typically offered by Full Truckload carriers. These optional freight services are known in the freight industry as accessorials.
Optional LTL Freight Services Include
Guaranteed Transit Time

Liftgate Service At Pickup Or Delivery

Residential Delivery

Inside Delivery

Notification Prior To Delivery

Freeze Protection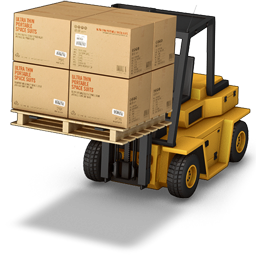 Rapid Express Freight covers thousands of LTL Next day, 2-day and 3-day lanes using a networking of common carriers that provide daily pick ups.
We now also offer special Pallet Rates for your LTL heavy shipments. With our pallet rates, the carrier will not change the rate even if they re-classify the freight class. Special terms may apply.