We Provide Competitive Truckload Freight Shipping for Dry Vans (standard trailers), Flatbeds (tarps available) and Refrigerated Loads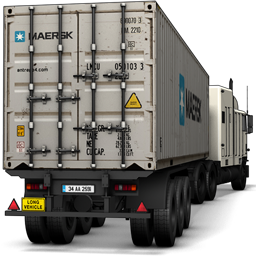 Truckload shipping is used when there is a need to transport large amounts of cargo. Generally the amount necessary to fill an entire semi-trailer or trailer. This is as opposed to a less-than truckload (LTL) shipment. LTL shipments generally mixes freight from several customers in each trailer.
One advantage of shipping Full Truckload over LTL is that the freight not handled en route. Whereas an LTL shipment will typically be transported on several different trailers.
Special Truckload Services
Team Drivers
For your special rush and time sensitive shipments. With team drivers, the truck typically only makes sort stops to fuel up. The two drivers take chances between driving and sleeping.
Exclusive Use
With exclusive use we contract the entire trailer for your shipment. This prevents theft and speeds up the shipment since no other shipments will be loaded in the trailer.
Regular 48 & 53 footer standard trailers for shipments of general commodities.
Go to Dry Vans
Reefer trailers are temperature controlled for your fresh and frozen food shipments.
Go to Reefers
Flatbed trailers including Step Deck and Goose Neck for oversized & heavy freight.
Go to Flatbeds
We have hundreds of carriers on contract pre-selected in our freight matching system. These carriers are all checked against the US Department of Transportation. We check for the proper transportation authority. We also check for adequate insurance. This includes cargo and liability insurance.