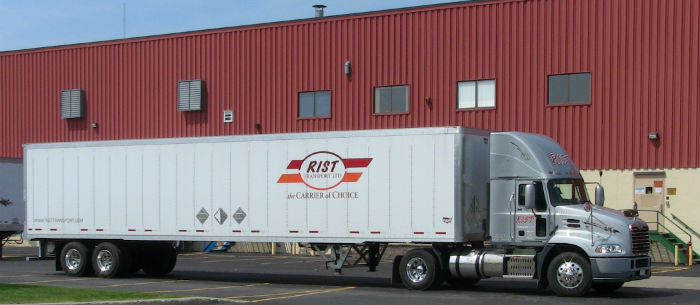 From the freight carrier:
Rist Transport Freight Services
Less Than Truckload (LTL)
In today's fast-paced world, businesses need agile, reliable solutions to keep up. RIST Transport's LTL service flexes to accommodate your schedule, handling requirements and volume demands. With 82 tractors, 158 trailers, and centrally-located terminals in New York, Pennsylvania, and New Jersey, RIST offers next-day and second-day delivery to customers throughout the Northeast and Mid-Atlantic region, Ohio, Kentucky, and Tennessee, Virginia, and North Carolina.
Truckload Shipping
The complexity of interstate, intrastate, and international logistics and transport comes down to one simple goal: delivering your freight on time, every time. With industry-leading trucks, equipment, and technology and an experienced team of drivers, dispatchers, and managers, RIST is able to provide efficient, effective solutions to all of your transport needs.
Carrier of Choice. Employer of Choice.
Transportation services you can depend on; experience you can trust. RIST, a Wadhams' family company, provides outstanding truckload, less-than-truckload, and brokerage solutions and exceptional service to customers in the Northeast, Mid-Atlantic, and Mid-West. Our goal is to build strong working relationships that enable us to streamline even the most complex transportation needs. Family-owned and operated, our professional approach and personal touch guarantees customers receive the highest quality and make RIST their "Carrier of Choice."
Our employees are the backbone of RIST. Dedicated, skilled drivers, dispatchers, managers, and supervisors ensure the process is seamless and expedient and that our customers have the answers, information, and support they need. We strive to be the "Employer of Choice" by creating a family atmosphere and providing ample opportunities for training and advancement. Teamwork, integrity, and values are the foundation of Wadhams' Enterprises. Everyone, from owner to driver to terminal manager to dispatcher, is invested in the success not only of the company but of our customers.
At RIST, we strive every day to improve and grow, whether implementing new safety measures, acquiring more efficient vehicles, or onboarding progressive technology for faster service. What remains the same, and will remain the same, is our commitment to providing unsurpassed service and quality. With RIST, you can expect nothing less than the best.