YRC Worldwide Inc. is the holding company for brands including YRC Freight, YRC Reimer, New Penn, USF Holland and USF Reddaway. YRC Worldwide has a comprehensive network in North America, and offers shipping of industrial, commercial and retail goods. The company is headquartered in Overland Park, Kansas.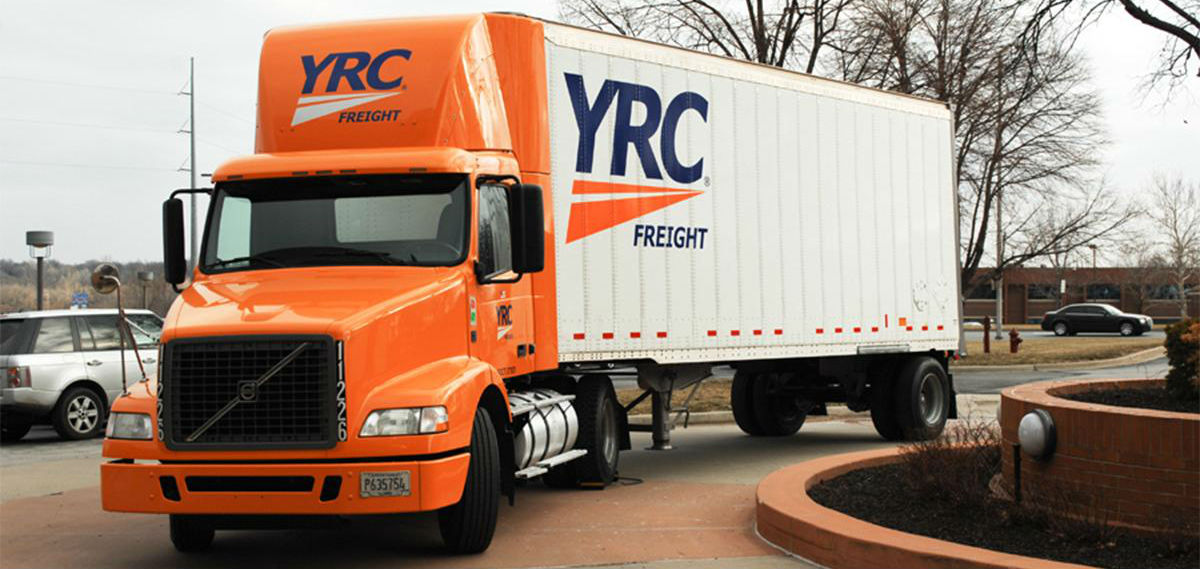 From the freight carrier: YRC Freight
We are the original LTL Experts, and we intend to regain our leadership position. We'll do it by delivering flexibility and reliability to your supply chain through our comprehensive North American coverage and broad portfolio of expedited and specialized LTL services.
YRC Freight Profile
Company Overview
YRC Freight reflects the Yellow Transportation (founded in 1924 in Oklahoma City, Oklahoma) purchase of and subsequent merger with Roadway (founded in 1930 in Akron, Ohio).
YRC Freight is the largest subsidiary of YRC Worldwide Inc. with corporate headquarters in Overland Park, Kansas. Other YRC Worldwide subsidiaries include YRC Reimer, Reddaway, Holland and New Penn. YRC Freight is the leading transporter of industrial, commercial, and retail goods, specializing in solutions for businesses across North America through a full-service network, advanced information technologies, and proactive customer service.
Capabilities
Seamless transportation throughout Canada, Mexico, and the United States, including our Domestic Ocean service to Alaska, Hawaii, Guam, U.S. Virgin Islands and Puerto Rico.
Reliable two-day, three-day and coast-to-coast service, connecting key markets.
Expedited and guaranteed deliveries by ground or air with YRC Freight Time-CriticalTM service.
Guaranteed delivery windows. We can accommodate any time window—in a specific hour, on a specific day or across multiple days.
Dedicated protective services for an entire trailer.
Special project and logistics management with Custom Projects.
Transportation for volume shipments, tradeshow exhibits, cold-sensitive products and product returns.
Industry Leadership
Only transportation provider to guarantee delivery of tradeshow exhibits at no additional charge.
Only LTL transportation provider with representatives on site at all main border-crossing points in North America to expedite Customs clearance.
One of the first transportation providers to be certified for the C-TPAT, PIP and FAST programs for supply chain security.
First nationwide LTL transportation provider to receive ISO certification of its entire network and management systems for shipping goods from pickup to delivery. Certification in the internationally recognized ISO 9001:2008 standards assures that quality controls for system integrity and security are in place.
Information Technology
Internet-based services provide in-transit shipment visibility and supply-chain management.
Secure, web-based applications, electronic data interchange (EDI) and other technologies for you to use to manage your transportation processes.
First transportation provider to combine cellular and satellite technologies to gather and send real-time data along local pickup and delivery routes. This two-way messaging and vehicle-tracking system for pickup and delivery operations improves responsiveness to your needs for pickup service and shipment information.
Community Service
YRC Freight is woven into the daily life of communities big and small in North America and other parts of the world. Yes, we're doing our jobs when we pick up customer goods, move them over the road and deliver them. But when we go frequently to an address, the people there—our customers—often become our friends. In ways big and small, from corporate support for national organizations to small groups of us helping out in our local neighborhoods, we care about the communities we serve, and we want to do right by them.